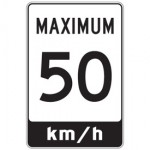 A stretch of highway that I take frequently has some dramatic changes in speed limits…especially as you transition from an open stretch of farmland into the village of Wainfleet. We go from doing 80 km/hour for six minutes to 70 km for 45 seconds and then 50 km for another 3 minutes before revving up to 80 again.
Our subscribers should be aware that it is as rare to see someone driving their vehicle at the posted speed limit of 80 km as it is to see Fidel Castro at the Republican Convention

Yours truly has confessed in a previous column that 80 km in Metric translates to roughly 99 km/hour in SamMetric.
All of this to say that most drivers barreling down Highway 3 at speeds in the vicinity of 100 km/hour find it very difficult to slow down when they get to this particular ribbon of asphalt. They get even more frustrated when they are forced to remove their lead foot off the gas pedal by the slow driver ahead of them.
You may find this hard to believe in view of my confession two paragraphs back, but I morph from speedster to slowpoke in a hurry and adhere strictly to the posted limit until I get through the village and spot the 80 km/hour sign again.
At times I've seen drivers behind me signal their displeasure when I do this by swiftly displaying one half of the peace sign. Sometimes bullies draw perilously close enough for a bumper-to-bumper smooch and back off with a screech when I do not give in to their demand to increase my speed.
Why? You see, I know something they don't know.
What they don't know is that our provincial (state) government has discovered a cash cow within that small stretch of highway through the village. Ontario Provincial Police (OPP) love to park their vehicles at select spots and pick off unsuspecting speeders with regularity. You can see the blue lights flashing and hear the Cha-Ching! Cha-Ching! as you drive by another victim, I mean, violator.
(For the record, yours truly has not contributed to the coffers of the Province of Ontario for an offence committed on this particular stretch. I plead the fifth with respect to other locations)
There are times in life when we too may be frustrated at being slowed down just as we are cruising along on the road to our destiny. Could it be that God has a reason to make us take it easy through certain stretches because He knows something that we don't know?
In Hebrews 12:1-2, we read: "…Let us run with perseverance the race marked out for us, fixing our eyes on Jesus, the pioneer and perfecter of faith…" Doesn't this conjure up an image of Jesus as the "fore-runner", the "lead driver", who is going just ahead of us?
The Christian journey begins for all of us by responding to His invitation: "Follow me." Chances are you associate such following with the drastic decision of those who were called first to leave everything behind and go with him.
But following is really something that happens on an ongoing basis, isn't it? Every day, every hour, every moment of your life you are following Jesus. He knows what lies ahead of us. He has been there. He is already there.
Sometimes He speeds up and bids us follow fast. Other times He slows down because of the traps that lie ahead. (Disclaimer: Radar Traps are not the work of the enemy, as evil as the OPP may appear to the offender…lol!). Most of the time He proceeds at a steady pace.
Dear DWOD friend, you are simply called to trust and follow Him. So, don't get frustrated when He makes you slow down. It is simply because He knows something you don't!