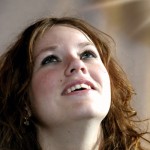 Do not be anxious about anything, but in every situation, by prayer and petition, with thanksgiving, present your requests to God. (Philippians 4:6)
For a number of years now, I have been offering those who are going through what could be labelled "fearful" situations a Scriptural prescription.
It is one that I heard Paul Keith Davis first mention at a Conference in Toronto at a time when I was facing great uncertainty about my future. The enemy had managed to stir up fear in my spirit. I knew God would take care of everything, but, truth be known, I was not confident about it.
"Dr. Davis" prescribed a daily reading of Psalms 27 & 91. Out aloud. At least once a day. You could do it more frequently. There was no danger of an overdose

No sooner had I received the prescription than I started to take the recommended daily allowance and began to saturate my mind with verses such as these:
"The Lord is my light and my salvation. Whom shall I fear? The Lord is the stronghold of my life. Of whom shall I be afraid?" (Psalm 27:1)
"He will cover you with his feathers, and under his wings you will find refuge; his faithfulness will be your shield and rampart. You will not fear the terror of night, nor the arrow that flies by day…" (Psalm 91:4-5)
I experienced such great relief after following this prescription that I freely began to dispense it to anyone who was willing to take it…and most did.
However, I also began to notice that not all who took the RDA of these psalms experienced the same results as I had. This puzzled me, because God says very clearly in Isaiah 55:11 about the word that goes forth from His mouth: "It will not return to me empty, but will accomplish what I desire and achieve the purpose for which I sent it."
As I was seeking Holy Spirit for some revelation on this, He took me to Philippians 4:6 where Paul reminds us to offer our prayers and petitions "with thanksgiving." 
That is when I realized that the attitude with which we follow the prescription had a lot to do with its effectiveness. So, for example, when someone read them out aloud with fear, expecting the worst to happen despite the best outcomes promised by God, they got what they expected—more attacks or the same attacks with greater intensity.
On the other hand, those who recited those same verses with the joyful expectancy that God will keep His promises achieved great results. Why? Because they had no fear of the enemy. They did not expect the enemy to flex his muscles and inflict greater damage upon them. They would not even allow that thought to have any life or influence. They took it captive to Christ, locked it up and threw away the key!!
They replaced anxiety with thankfulness. They started praising and thanking God for the victory that was theirs. After all, it was guaranteed by the Creator of the Universe. Why would they worry about the promise not being kept?
Dear DWOD friend, have you been reading out Scriptural affirmations similar to Psalm 27 & 91 and not seeing good results? Could you be unintentionally sabotaging the outcome with your attitude?
Stop praying with angst. Pray with thanks instead. It will make a world of difference! I can't wait to hear your testimonies!!