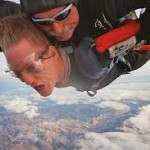 "And without faith it is impossible to please God, because anyone who comes to him must believe that he exists and that he rewards those who earnestly seek him." (Hebrews 11:6)
Someone asked me if I ever fear being wrong when I prophesy.  I would have to say that this is not a motivating force in my life.  I may feel fear from time to time but I have learned not to allow this fear to drive me.  I think we have all heard the saying, "feel the fear and do it anyway."
There are times that I say things to people that I don't know where it is coming from.  One time I prophesied over a guy I never met.  I said, "I see that you have a farm where ministry occurs.  God is going to use that place for revival."  I knew nothing about this guy and stepping out with such a word scared me, but I did it anyway.
It turned out that this man not only had a farm, but he had a tent that he used on that farm to hold revival meetings every year.  I went down about a year after this word was given and preached on that farm.  Together we saw God do some tremendous things for his glory.  In fact I prophesied further on that farm that gold would appear in the soil.  Even that night we saw this manifestation.  This man's wife looked down and there was gold dust in the soil.
On another occasion I prophesied over a woman in Texas.  She came forward for prayer for her mother and also to receive a prophetic word.  Just as I was about to give her that word I had a vision.  In it I saw these balloons go up into the air.  I had no idea what it meant, but I spoke out the word anyway.
Apparently the woman asked me to pray for her mom because she was very ill.  In fact, she died shortly after.  Within two weeks of that word this lady was at a memorial service in the town in which her mother lived.  She had forgotten the word that I had shared with her but had recorded it.  She didn't share that word with anyone either.
At the memorial service balloons were released into the air.  The woman was so excited telling me this story.  She said that all the balloons but two white ones went up into the air.   When they got up so high the wind began to push them south and they disappeared.
The two white ones hung over the ground for a while and then they too went up into the air.  When they got high, instead of going south like the rest they went north where her mother's house was located.  They hovered over that house for a little while and then went straight up into the air and disappeared from sight.
If I allowed fear to be my motivator then I would never have prophesied either of these things over these people and I would not have had these testimonies as a result.  We must feel the fear and follow through anyway.
Scripture says that without faith it is not possible to please God.  We must step out in faith and do the work of ministry.  I pray for you today.  I pray that you will not be motivated by fear but by faith.  I pray that you will step out in new ways and begin to see the fruit as a result.