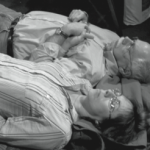 "The LORD is my shepherd; I shall not want. He makes me to lie down in green pastures; He leads me beside the still waters. He restores my soul …" (Psalm 23:1-3)
If you were to stop at Forks Road East United Church in Wainfleet, Ontario, Canada any time between 7 tonight and 7 tomorrow morning, you will be treated to a rather unusual sight.
You will see a few people seated, one per pew, with their heads bowed down and their eyes closed.
You will see a few more stretched out on the pews.
Most of them will likely be lying on the carpet, inside a sleeping bag or on blankets and air mattresses.
Many of them will be awake, a few will be sleeping, some of them "sound-ly", if you catch my drift!
You will also hear music playing—a blend of vocal and instrumental tracks, most of which will not sound familiar.
What in God's name are these people doing in church during this 12-hour stretch?
They are SOAKING in God's Presence.
Are you familiar with Soaking?
Soaking is a spiritual discipline in which you experience God by simply staying still in His Presence.
In Psalm 46:10 we are encouraged to "Be still and know that I am God."
The word translated "know" comes from the Hebrew "yada", which refers to a knowing that comes by experience, even the intimacy of a sexual experience.
In other words, God tells us in His word that those who take the time to be still in His Presence will experience Him in a personal, intimate way that is not possible by any means.
We can know about God by reading about Him.
We can learn more about Him through someone else's teaching.
But there is no substitute for knowing Him through experience.
It is very similar to the human relationship of marriage. Take mine, for example.
You can know a lot about me by simply googling my name.
You can find out details of my life by talking to those who are close to me.
But no one can know me the way Sulojana, my wife of nearly 30 years, knows me.
There is a generally accepted truth in life that you become like the people with whom you spend most of your time.
This is how children become like their parents…hello?
In a similar way, the more we hang around our heavenly Father, the more we become like Him.
Makes sense, doesn't it?
Granted, you don't need to spend 12 hours in a row on the weekend in a church building for this to happen.
This is a special event we call a Soakathon…held two or three times a year.
But you can soak anywhere you are able to do so, at any time that works for you.
It is best if you can set aside a segment of time every day and make this part of your daily life.
Since you are already online, why don't you give it a try right now?
Just go to http://soaking.net/streaming-music-players/, click on the Play Button on one of the players, lie down, close your eyes and just soak in the Presence of God.
Start with a reasonable length of time, say 15 minutes. Increase it by 5 minutes a day over the next few days.
You will be amazed how you experience God personally and intimately.
Please share your experiences with us right below this post.