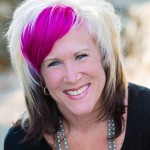 (Be blessed by this DWOD for Aug. 14, 2014 by guest contributor Sandi Krakowski)
When Jesus spoke to the winds and the waves, He said, "Peace, be still." The transliteration of the word "still" means to be MUZZLED.
When we look at the word "muzzled" in its most natural expression, it means to be prevented from expressing opinions freely. The storm was forbidden to express its opinion.
When the enemy comes to taunt you and harass you, never forget that, he is expressing his opinion!
When a critic comes and seeks to suck the wind out of your sails, remember this—they are entitled to their own opinion and you are well able to IGNORE their opinion.
We can't keep bad things from happening, or challenges from occurring. We can't make everyone be quiet. We live in a free will society and God made us to have a free will.
HOWEVER, we do not need to agree with the opinion of the storm or the waves, or anyone standing by the shores screaming, "You will drown!"
Choose to listen to God's opinion of the storm.
He said YOU are more than a conqueror! (Romans 8:37)
He said you are well able to handle anything that comes your way. (Philippians 4:13, I Corinthians 10:13)
He said that when we are weak, He can and will make us strong, if we trust Him. (Isaiah 40:29)
He said when we don't know what to do, He will give us wisdom, if we ask. (James 1:5)
He said that when we make big mistakes, if we confess our sin, He will be FAITHFUL, every single time, to not condemn us, but to forgive us. EVERY time. (I John 1:9)
Be very careful whose opinion you are listening to today. Let's choose to agree with God! Amen?
(Sandi Krakowski, the founder of A Real Change, is a social media marketing expert who serves over 1.5 million clients worldwide. Sandi's passion and purpose is to ignite people and cause them to burn with the fire that God put in their hearts, to cause them to live in freedom and to be capable of causing them to burn on their own in their respective calling).